NFL Week 10 Results Cement Chiefs as No. 1 Seed in AFC Playoffs
It's a great day for Chiefs fans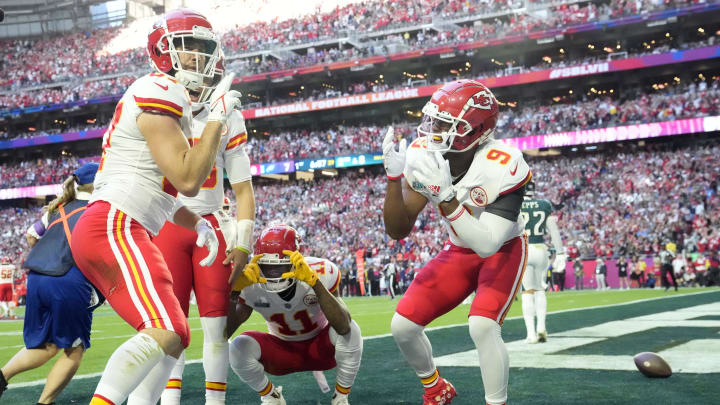 The Chiefs are the only AFC team with two or fewer losses following NFL Week 10 results / Michael Chow/The Republic / USA TODAY
Who said the Chiefs couldn't win today?
Kansas City is on a bye week, but the Chiefs are clearly the biggest winners of NFL Week 10 to this point.
We already knew the Chiefs had an inside track to the No. 1 seed, though today's results afford Kansas City a much greater margin of error. It sure looks like we'll have a great opportunity to host a sixth consecutive AFC Championship.
NFL Week 10 Results Cement Chiefs as AFC Playoffs No. 1 Seed
Your Kansas City Chiefs are the only AFC team with two or fewer losses.
The Ravens choked away a 14-point lead after a late interception thrown by Lamar Jackson while the Jaguars got embarrassed by the 49ers, giving the Chiefs a massive edge in the AFC standings.
Kansas City (7-2) not only has fewer losses than all of the top AFC contenders, but the Chiefs have head-to-head wins over the Jaguars (6-3) and Dolphins (6-3). The Ravens have three conference losses to Kansas City's one, giving the Chiefs the tie-breaker there too.
Shoot, even the Cincinnati Bengals lost to the suddenly-spry Houston Texans!
If the playoffs started today, the Bengals (5-5), Bills (5-4) and Chargers (4-4) would all be sitting on their couches watching from home like the rest of us.
Turns out you can still win on a bye week, after all.
---
Want to celebrate the big day with another HUGE win? FanDuel Sportsbook is giving Chiefs fans $150 in bonus bets for correctly picking the winner of ANY game! Bet $5 or more (with a $10 deposit) on any team to win any game, and you'll receive an extra $150 in bonus bets if you're right. Keep the wins rolling - sign up for FanDuel now!
More Kansas City Chiefs News: