Do Patrick Mahomes and Travis Kelce Have Betting Value in The Match?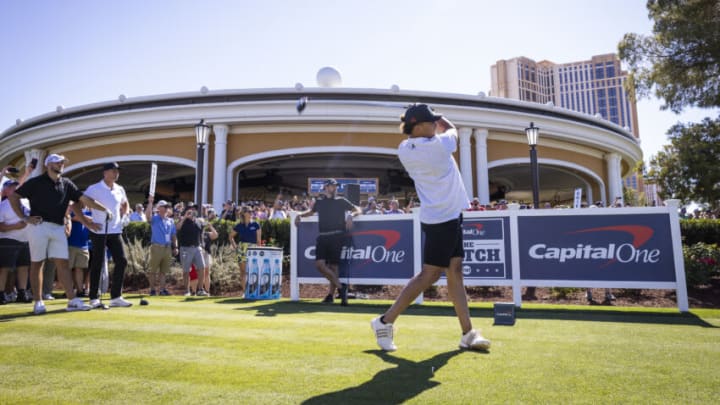 May 31, 2022; . HANDOUT PHOTO: Coverage of Capital One's The Match at the Wynn Golf Club.Patrick Mahomes hits a tee shot. Mandatory Credit: Jeremy Freeman/Turner Sports via USA TODAY Sports /
Patrick Mahomes and Travis Kelce take on Stephen Curry and Klay Thompson in Capital One's The Match tonight at the Wynn Las Vegas but find themselves underdogs in the 12-hole golf showdown.
Coverage begins at 5:30 pm CST on TNT and this will be the first time NBA and NFL stars will square off with one another.
Curry is the most accomplished golfer on record of the four competitors, though Kelce was quick to remind everyone that he and Mahomes have never lost in Vegas.
Does the Chiefs' superstar tandem have betting value tonight? Let's look at the odds before jumping into it.
The Match: Patrick Mahomes/Travis Kelce vs. Stephen Curry/Klay Thompson Betting Odds
Mahomes/Kelce: +220
Curry/Thompson: -260
odds courtesy of DraftKings Sportsbook
The Match Prediction and Betting Pick
While Curry plays at a +1 handicap, has competed in a pair of Korn Ferry events, and is even featured as a playable character in PGA Tour 2K23, Mahomes' golf game is nothing to scoff at either
Kansas City's patron saints even won the 8AM Golf Invitational last year, Justin Timberlake's scramble tournament on this very course. They've got experience here and a sparkling track record as underdogs.
https://twitter.com/OddsShark/status/1673397388382183440
Conventional wisdom based on reported handicaps has Curry as the best player of the four but Thompson as the worst, so Mahomes and Kelce hope their combined approach will give them an edge.
The best-ball style of the tournament means each player can make up for any mistakes their partner makes. Mahomes and Kelce are confident their games will complement each other well. Should Curry falter at all and Klay lags behind, the Chiefs' duo will be ready to strike.
Odds of +220 give Mahomes and Kelce an implied probability of just over 31% to win and I like their chances better than that. I'll be backing the NFL's best tandem, though bet responsibly as this is an event for charity after all.
The last time we saw these four competing in their respective sports, we saw Curry and Thompson fall short while Mahomes and Kelce hoisted the Lombardi. Here's hoping we'll see the Chiefs' stars holding up another trophy victoriously come tonight.
Pick: Mahomes/Kelce +220
Game odds refresh periodically and are subject to change.