The Border War Is Back for the Kansas Jayhawks and the Missouri Tigers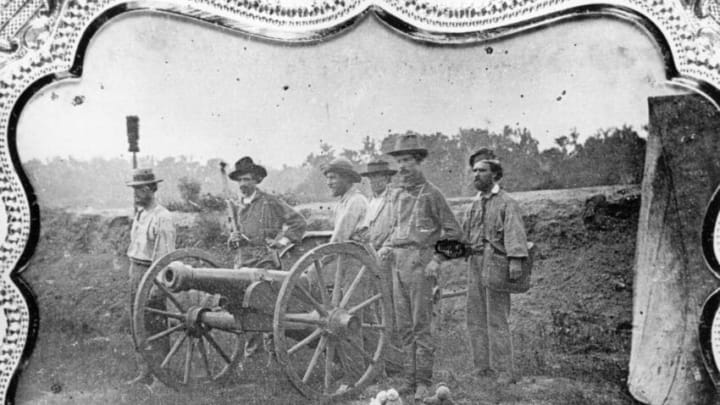 Members of a Free-State Battery formed to fight pro-slavery forces in Kansas during the 'Bleeding Kansas' period, 1856. They are at Topeka in Kansas. (Photo by Hulton Archive/Getty Images) /
The long awaited Border War between Kansas and Missouri Basketball is slated for Dec. 11 at Allen Fieldhouse. Not even Quantrill himself would want to lead this charge into Lawrence.
The history is well-known to those of us in Kansas City. In August of 1863, just a month after the tide-turning defeat of Lee at Gettysburg, Confederate raider William Quantrill led a group of 400 guerillas into Lawrence, Kansas.
What occurred is now called the Lawrence Massacre. Make no mistake – Quantrill and his bandits acted like terrorists. They burned parts of Lawrence to the ground. They looted every structure. And in a act that is still hard to imagine today, they murdered 20% of the male residents.
Since that day, Kansas and Missouri have been at each other's throats.
College sports have many great rivalries. Michigan and Ohio St, Texas and Oklahoma, Duke and North Carolina – those are some of the big ones we hear about these days.
For fans of Kansas or Missouri, these are laughably quaint, ginned-up disputes born from little more than proximity, fueled modern by marketing.
The feud between Kansas and Missouri was literally born in blood. And it's as contentious as ever.
When Missouri left the Big 12 for the SEC, Kansas immediately refused to schedule any football or basketball games with them. They said it wasn't spite. But make no mistake, it was.
Ten years later we are finally getting a basketball game. This time, the lowly Missouri Tigers, currently ranked 253 (just ahead of Alcorn St.), may be dribbling into a massacre of their own.
Kansas, as usual, is one of the better teams in the country. They will be playing at home. The crowd will be the most rowdy seen since Allen Fieldhouse opened in 1955. Don't be surprised if students greet Missouri buses with explicit signs and rotten eggs the second they cross municipal lines.
The partisan Kansans will be led by Bill Self. No single person in the state of Kansas has done more to freeze out Missouri since its departure to the SEC. Bill Self hates Missouri like Quantrill hated Kansas. It is deep and irrational.
He'd love to exact his own form of revenge on, as he sees them, the pathetic Tiger traitors.
I suspect he will.
These days, sportsmanship is the watchword of NCAA sports. Running up the score and taunting opponents is considered a vestige of yesteryear and is now a now heavily penalized act.
That will go out the window this weekend. Bill Self doesn't want to win this game, he wants to make generations of Missouri fans feel defeat in their souls. I don't think it will get ugly, I know it will.
And I'm here for all of it.
Yes, I root for the Tigers, but I love that the Border War is back more. I even love it enough to take a beating at Allen Fieldhouse.
Kansas vs. Missouri battles are a birthright to those of us who live in either state. And for one day a year, Kansas vs. Missouri is more important than anything.
This rivalry splits families apart. If you think politics divides us, on the weekend of a Border War game, staunch Democrats and rabid Republicans who attended the same school will laugh, cheer, hug, and high-five together.
Children not old enough to speak will be decked out in outfits by their Tiger or Jayhawk parents. Households will temporarily be Tiger-only or Jayhawk-only. Bars will be split into Tiger or Jayhawk seating. Neighbors will fly flags in opposition. And generations of Border War veterans will sit in front of the TV shouting and jumping in an effort to coax their team to victory.
It's been 158 years since Quantrill rode into Lawrence. The feelings are as raw as ever. It's who we are in eastern Kansas and western Missouri. It's glorious. And it's been sorely missed.