Kansas State football vs. Stanford Cardinal: Wildcats weather report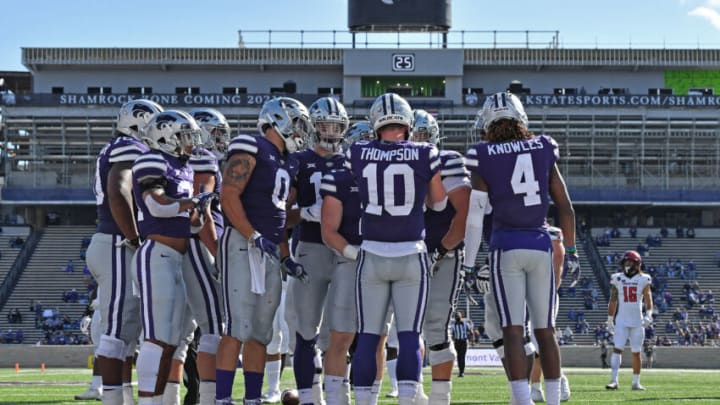 MANHATTAN, KS - OCTOBER 03: Quarterback Skylar Thompson #10 of the Kansas State Wildcats huddles with the offense against the Texas Tech Red Raiders during the first half at Bill Snyder Family Football Stadium on September 3, 2020 in Manhattan, Kansas. (Photo by Peter G. Aiken/Getty Images) /
It's going to be hot in Arlington, Texas as the Kansas State football team faces the Stanford Cardinal.
Kansas State football fans who made the trip to the AT&T kickoff might find that the weather in north Texas gets pretty hot. While the high in Manhattan, Kansas is a nice, comfortable and cozy 77 degrees, things will be significantly warmer in Arlington, Texas today.
According to the hourly forecast for Arlington at Weather.com, by the time kickoff between the Wildcats and Stanford Cardinal comes around, it'll already by a balmy 88 degrees. Kickoff is at 11 a.m., by the way.
And, to nobody's surprise, it's only going to get warmer from there. At noon, temperatures are expected to get up to around 92 degrees. By 3 p.m., temperatures are forecasted to get up to 97 degrees.
That'll basically be as hot as it gets temperature wise, but with the humidity, it's going to be pretty miserable to be outside in Arlington today.
Kansas State football weather report: Wildcats vs. Stanford Cardinal
It should be partly cloudy, according to Weather.com's forecast. But, at the moment, there's no real chance for rain around the time that this game is being played. Still, if you want to keep up with what's happening on the radar, Weather.com has one available for you if you click here.
But, all that said, Kansas State football fans shouldn't really have to worry about the weather in Arlington. AT&T Stadium has a retractable roof and plenty of air conditioning. Hopefully things will be closed and cool for K-State fans who made the trip to watch the Wildcats today.
That said, if you're in north Texas and plan on going out after the game, be prepared for the heat and stay hydrated. It's not much fun to be outside in that kind of weather.