Nebraska football: 3 first half thoughts on Huskers vs. Illinois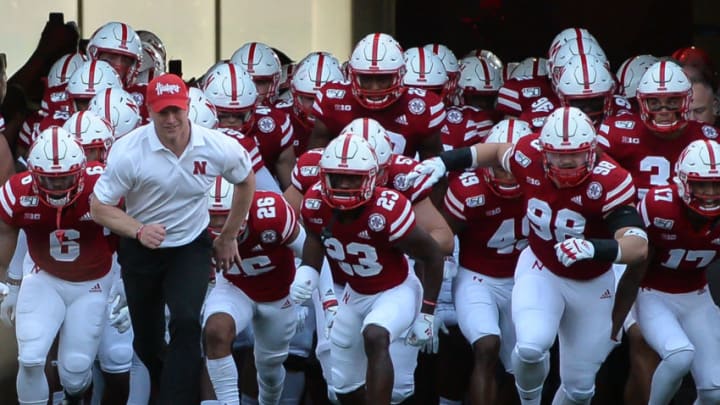 LINCOLN, NE - SEPTEMBER 14: Head coach Scott Frost of the Nebraska Cornhuskers leads the team on the field against the Northern Illinois Huskies at Memorial Stadium on September 14, 2019 in Lincoln, Nebraska. (Photo by Steven Branscombe/Getty Images) /
The start of the 2021 Nebraska football season hasn't exactly been great so far.
Well, the first Nebraska football game of 2021 hasn't been much fun for Nebraska football fans. The Huskers have struggled throughout the first half of their contest with the Illinois Fighting Illini and multiple mistakes have cost Scott Frost's team so far.
Right now, entering halftime, the Huskers are trailing 16-9. This is a game that should be tied at half, but errors are dooming the Nebraska football team. If this team doesn't find a way to turn things around in the second half, Frost and company will start this season with a bad loss. That's not what this group needs.
Here are three thoughts on how Nebraska's game against Illinois is going so far.
No. 3: The Huskers' offense still looks really rough
Nebraska's offense hasn't been able to get going at all so far and that's probably not a good sign. The Huskers only managed to gain just 151 total yards of offense in the first half. Quarterback Adrian Martinez is having a particularly rough time as he's managed to complete six of 14 passes for 112 yards.
Unfortunately for the Huskers, things aren't looking much better when taking a look at the rushing attack. As a team, the Huskers have a touchdown on 20 rushing attempts so far, but they've only gained 39 yards. This team really needs to find a way to score some points.
No. 2: Turnovers and mistakes are really hurting the Nebraska football team early on
Nebraska somehow keeps finding ways to shoot itself in the foot and that's devastating to the Huskers' chances of winning this game. Illinois first got on the board after a frustrating safety on a punt return, which took all sorts of momentum away from Nebraska in the process. Then, later on, Martinez was sacked and then fumbled the ball away. That fumble was taken in for a touchdown, which put Illinois up 16-9. This game could be tied at half, but errors took that possibility away.
No. 1: The defense looks decent so far, but maybe Illinois just isn't that good on offense
So far, Nebraska's defense has only given up a total of seven points. Yes, Illinois is leading by a score of 16-9, which is bad, but nine of those points came from either a safety or a scoop and score. Illinois only has 148 total yards of offense right now. Nebraska's defense is doing its job. The offense and special teams? Not so much.