Missouri Tigers: Jim Sterk to step down as Mizzou's athletics director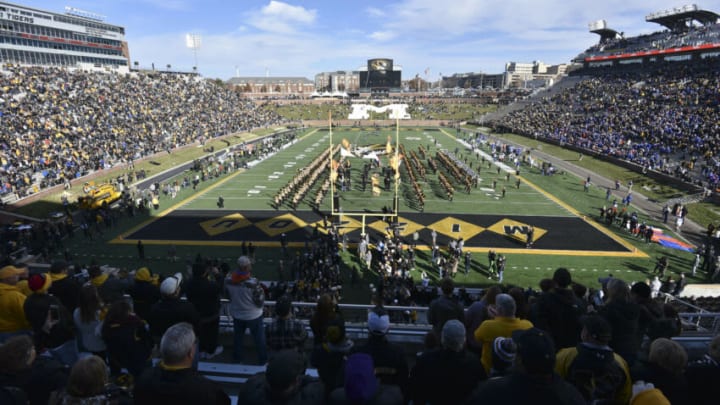 COLUMBIA, MISSOURI - NOVEMBER 16: A general view of Faurot Field/Memorial Stadium prior to a game between the Florida Gators and Missouri Tigers on November 16, 2019 in Columbia, Missouri. /
The Missouri Tigers must find a new athletics director as Jim Sterk is set to move on from Mizzou.
The folks over in Columbia are about to be busy after Jim Sterk (along with Mizzou) made the decision for Sterk to leave the Missouri Tigers. Sterk, previously Mizzou's athletics director, will be moving on and leaves a little bit of uncertainty behind him as the Southeastern Conference is on the verge of expansion.
The Missouri Tigers broke the news in a press release Monday evening. According to the press release, the decision for Sterk to leave as the athletics director was a "mutually agreed" decision upon between the University and Sterk.
""The University of Missouri and MU Athletics Director Jim Sterk mutually agreed he will step down from the position once a new leader is found.""
Missouri's press release detailed Sterk's accomplishments as Mizzou's athletics director, but it did not state why Sterk was stepping down.
Missouri Tigers: Mizzou must look for a new athletic director as Jim Sterk steps down
Sterk is stepping down at an odd time that was caused by a couple of current members of its former conference. The Tigers, previously a member of the Big 12, could be joined by Oklahoma and Texas as the Sooners and the Longhorns are looking to join the Southeastern Conference.
But, Sterk leaving Columbia in this particular moment might help the Missouri Tigers find a new athletics director. That's the line of thought from Yahoo Sports' Pete Thamel, at least.
It remains to be determined as to whether or not that rings true. The Missouri Tigers are going to undergo a "national search" as they try to find their next athletics director, according to Mizzou's press release.
We'll see which ADs are interested in the Missouri gig. There's plenty of upside for the athletics department in Columbia, particularly so with coaches like Eliah Drinkwitz guiding the football program and Larissa Anderson leading the softball program.