KC Chiefs: Could team acquire Patriots WR N'Keal Harry?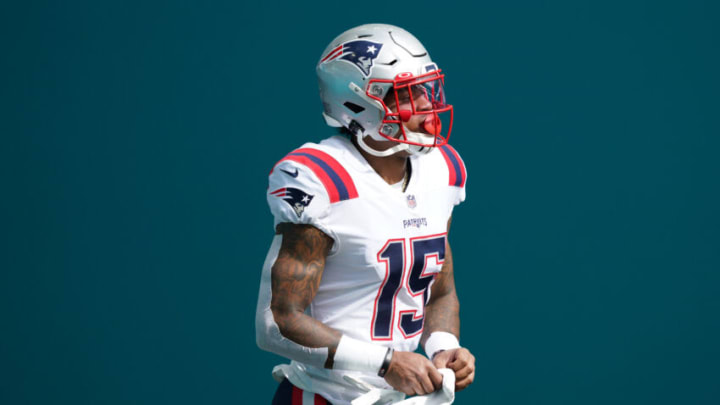 MIAMI GARDENS, FLORIDA - DECEMBER 20: N'Keal Harry #15 of the New England Patriots takes the field prior to the game against the Miami Dolphins at Hard Rock Stadium on December 20, 2020 in Miami Gardens, Florida. (Photo by Mark Brown/Getty Images) /
Right in the middle of a slow Tuesday afternoon, news broke that New England Patriots wide receiver N'Keal Harry has requested a trade from the Patriots.
Harry, a first round draft pick back in 2019, has had a disappointing career so far for a top-100 draft pick. Harry has recorded just 45 receptions for 414 yards and 4 TDs in two seasons with New England which looks like a stat line from just one season.
Of course, this has to pertain to the Chiefs because we all know general manager Brett Veach loves former first round picks who he can flip into productive players.
The Chiefs also have an apparent need at Wide Receiver, too. At least at the X receiver spot in which Harry fits the profile of a big and physical X receiver. Most of the Chiefs current receivers are on the slighter side so there's a possibility Veach and company sniff around here.
There's also the aspect of giving a prospect like Harry a change of scenery which is a real factor. Sometimes players just need a great start to get where they want to be in their careers. Everyone loves a good career revival.
KC Chiefs adding N'Keal Harry wouldn't make a ton of sense
Outside of that, though, a move for Harry doesn't make a lot of sense for the Chiefs in my opinion.
Personally, I've never been impressed with Harry as a prospect as he has a lot of trouble getting open and doesn't have great fluid athleticism. He's more of a go and get the ball possession receiver and quite honestly, the Chiefs don't really go for those types of receivers or utilize them like that when they do.
In addition to Harry being unimpressive, I don't think there's room for him on the roster. Yes, the Chiefs do need a No.2, but Harry isn't any closer to being the answer at that spot than Byron Pringle or Mecole Hardman. Both of whom I have my concerns about, too.
Adding Harry would just be cluttering the receiver room with another guy who may or may not be good. A group consisting of Pringle, Hardman, Tyreek Hill, Cornell Powell, etc. is probably solid enough to get by and I don't think Harry would really be above any of those guys.
In the end Brett Veach will probably do his due-diligence and if the price is a low day 3 draft pick he might go for it as there's not a ton of risk involved in doing that.
I do think Brett Veach will end up adding another receiver at some point if no one steps up to the job. I just don't think Harry is the guy he'd go for.