KC Chiefs: Ten Best Fourth Round Draft Picks of All-Time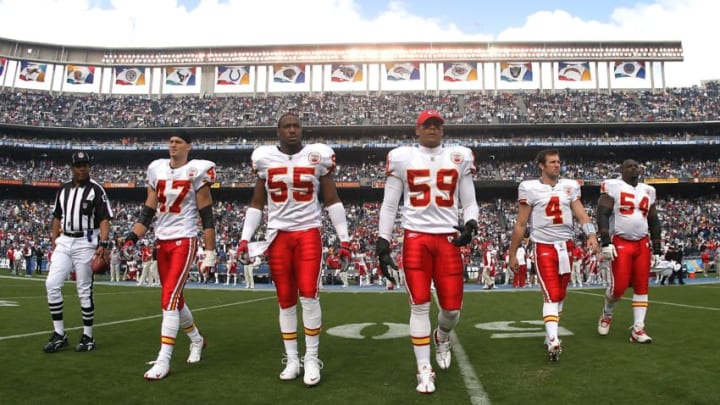 SAN DIEGO, CA - NOVEMBER 9: The team captains of the Kansas CIty Chiefs take the field for the coin toss before a game against the San Diego Chargers at Qualcomm Stadium on November 9, 2008 in San Diego, CA. The Chargers defeated the Chiefs 20-19. (Photo by Tim Umphrey/Getty Images) /
(Photo by Tim Umphrey/Getty Images) /
This KC Chiefs list highlights the franchise's best fourth round picks of all-time.
Since the NFL and AFL started drafting together in 1967, the KC Chiefs have not had a ton of success drafting offensive players. The KC Chiefs have selected offensive players in 29 of their 48 fourth round picks since 1967.
Out of those 29 players, only three of them, two offensive linemen and a wide receiver, were worthy of being named among the top 10. The KC Chiefs appear to have much more success drafting defense in the fourth round. Out of the 19 defensive players drafted in the fourth round, seven appear in the top 10.
Their positions include three defensive backs, three linebackers, and a high profile defensive end. Defensive back appears to be the position with the highest success in the fourth round. The three defensive backs on this list gives the KC Chiefs a 50 percent success rate out of the six defensive backs drafted in fourth round franchise history.
Linebacker, along with wide receiver, are tied for the most frequently drafted positions in the fourth round by the KC Chiefs.
Although, if you count the KC Chiefs latest fourth round pick De'Anthony Thomas as a wide receiver, or 50 percent running back and 50 percent wide receiver, then wide receiver gets a slight edge in this regard.
The KC Chiefs vigorous efforts to draft a successful wide receiver in the fourth round only yielded them, at best, a 10 percent return on their investment. The first player on this list represents that top ten percent of wide receivers drafted in the fourth round.
Next: Receiver For Los Angeles Kiss