Tamba Hali has to be feeling pretty good. His team is 7-0 and in first place in the AFC West, he's fourth in the league in sacks, and is a member of the NFL's number one defense.
How is Hali celebrating? By giving crazy large tips at Fogo de Chao.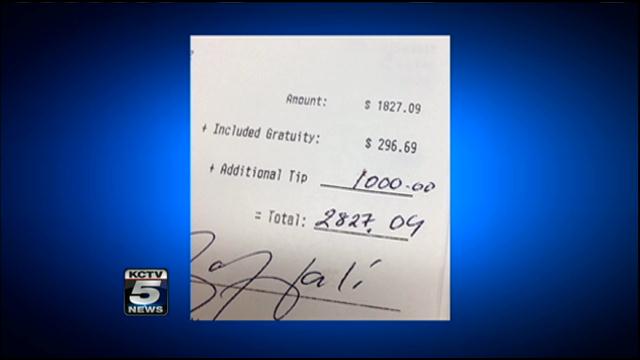 Oh, well that's nice.
From KCTV 5:
Hali and up to 15 friends and family went to Fogo de Chao about 8:30 p.m. Sunday. The restaurant was pretty empty because most fans had stayed home to watch the game or traveled to Arrowhead.

…

Hali said he was uncomfortable with the attention he is getting because of the tip, and he just did it to help others like he has been helped.

…

"It made our day. Hands down, it made our day," server Joshua Roan said. "The staff was over the top. He was the last guest in the building. There was a lot of shouting and hollering after he left. We had to wait until he left. We had to keep it professional."
Cool.
Tags: Kansas City Chiefs Tamba Hali