It's Monday and that means a fresh look at who's dominating the sports scene in Kansas City. As always, the battle for the top spot is very tight.
5) Claudio Bieler
How good has this guy been?
Seven matches into his Sporting Kansas City career Bieler has four goals, including his brilliant goal in the 89th minute of last Friday night's game against D.C. United to win the match for Sporting.
The 29-year-old Argentinean was brought in to fill the center forward position in an effort to score more goals off of their plethora of chances. Last season Sporting was first in the league in shots taken (542) but only scored 42 goals, the second-fewest of any of the MLS playoff teams from last year. Bieler has help fix that problem to a certain degree, scoring his four goals on 19 shots (seven on goal).
"He's a very smart player," Jimmy Nielsen said of Bieler after Friday night's win. "Time after time he's shown how smart he is at finishing. He's a solid goal-scorer and it's very important to have a guy like him on the team."
4) Ned Yost
Am I convinced he is a strong enough manager to lead the Royals to a division title or wild card spot? Not quite, but Yost went a long way this week to prove he is up for the challenge of proving me wrong. The most telling and convincing move Yost made this week in regards to potential change was the decision to pull Greg Holland in the ninth inning of Sunday's win over Philadelphia.
Let's be clear about something: If Yost doesn't make that move Sunday – a move few managers in baseball would make – the Royals lose on Sunday. There is no question Holland was gassed the day after throwing 30 pitches in a blown save the night before. His control has been erratic and his approach to pitching – it is okay to throw an off-speed pitch from time to time – was questionable. But instead of letting Holland stay out there and let the win slip away because "Holland is the closer and you have to trust your closer" and all the other nonsense major league managers spout, Yost pulled him for the better pitcher.
If the Royals are going to make the playoffs this season, they cannot afford to drop games like they did Saturday night. Moves like the one Yost made Sunday to prevent a two-game skid are going to have to become the norm if Kansas City is going to keep the wins they've earned and steal some wins they don't deserve. Putting relievers in the right position for success, pulling them when it isn't their day, and rebuilding the confidence of Eric Hosmer and Mike Moustakas are going to be huge factors for the Royals this season that Yost will have direct control over. After one week Yost appears to be up for the task.
3) Mavericks
After being in a 2-0 hole to start their first round series, the Mavericks have taken three straight from Rapid City at home to put them within one game of advancing to the semifinals of the Central Hockey League playoffs.
Colt King had two goals and Kellan Tochkin had a goal and two assists in the Mavericks 5-2 win over Rapid City on Saturday. Missouri was down 2-1 in the final period before the Mavericks scored four goals to earn the victory and the chance to win the series.
Missouri's first chance to take the series will be Tuesday night in Rapid City at 7:35 p.m. Game seven will be played Wednesday if necessary.
2) Royals
What's the old adage? Play .500 on the road and .600 at home? Well, the Royals got the .500 part down.
For the second year in a row the Royals will come into the home opener with a 3-3 record after a rollercoaster road trip. The difference this season is Kansas City will have Ervin Santana and Jeremy Guthrie starting the first two games as opposed to Luke Hochevar and Jonathan Sanchez. The odds of a repeat winless home stand to start the season seems less probable this time around.
"Seems" is the key word.
The Royals started the season off with two straight losses and then blew up a potential four-game winning streak by surrendering a two-run ninth inning lead on Saturday. The bullpen further tried to screw things up by almost choking away a five-run lead in the ninth Sunday before being able to pull out the win.
It is hard to decipher the anxiety around the team at the moment. On one hand, the Royals could be 2-4 as easily as they could be 4-2 right now. And you could take that further if you feel that spotting Philadelphia two four-run leads in the first and last game of the series isn't they way a winning team should carry itself.
But then again these are also games previous Royals teams lose, let alone keep competitive. After the 0-2 start to the season in Chicago, home run derby of a first inning to start the series in Philly, and the blown lead in Saturday's game, Kansas City has already had three touch-points that generally lead to lengthy losing streaks for previous team. Last year's team was 3-2 and on their way to 4-2 before Jonathan Broxton's hit-by-pitch-off in Oakland to blow the game, leading to the 0-10 home stand and a 12-game losing streak.
Yes it has only been one week and there is plenty of time for the Royals to go on an extended streak of terrible baseball, but at least the Royals showed a bit more toughness and control this past week – something we haven't really seen in over a decade. It was nice to see James Shields have a terrible first inning only to shut things down for the next five innings. I was pleased to see Ned Yost yank Greg Holland yesterday to go with the better pitcher and not worry about hurting Holland's feelings. And it was good to see the Royals not give up after the way Saturday night ended and Sunday afternoon started.
The Royals may not be a division contender but they are certainly a much better team.
1) Sporting Kansas City
After a decisive victory over Montreal to close out March, Sporting was able to avoid a let down game against D.C. United with a clutch goal in the 89thminute on Friday.
As stated earlier, Bieler has been huge for Sporting so far this season with his early season form and his goal on Friday only accented his importance to Kansas City's squad. The cross from Sonny Saad after a broken play was tremendous and very heady given the moment in the game. And even though it is very early in the season and D.C. Untied a is a (now) 1-3-1 team, it is hard to look at these two celebrations and not think this game was a big deal.
(Pic via Tyler Passmore on twitter @THErealTPASS – photo credit for @NCTRNL)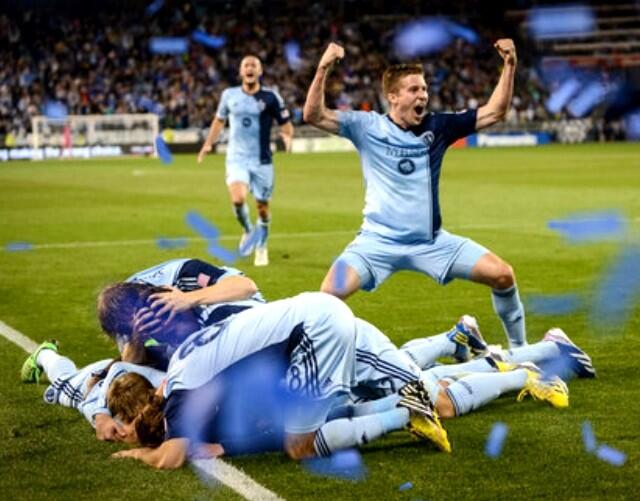 Kansas City also learned they are receiving heavy consideration to have a new national soccer training facility built near Sporting Park. If it were to come to fruition, it would be a massive deal for both Kansas City and the perception of soccer in the region.
"This project has both immediate, ongoing economic benefits and the potential for an incredible long-term benefit," Sporting Club CEO Robb Heineman said. "The development center would place Kansas City at the center of soccer conversation, both nationally and worldwide."
Wait, Kansas City isn't already at the center of the national and worldwide soccer conversation already?! Blasphemy.
But seriously, every time something with Sporting Kansas City is announced, the more I hope there is some kind of backroom discussions about selling the Royals between David Glass and Heineman. That is probably the closest off-field thing we could get to a championship moment in this city, yes? It'd be bigger than the Joe Montana trade and up there with Ewing Kauffman landing an expansion franchise for Kansas City.
Tags: Claudio Bieler Kansas City Royals Missouri Mavericks Ned Yost Sporting Kansas City